For the love of our culture
Our foundation connects and enriches the Maroon community as a whole by stimulating and facilitating participation projects, both educational and cultural.
In addition, the foundation provides support for cultural connection and cooperation. With the goal of cultural preservation and gaining visibility.
Our foundation is committed to preserving the culture and heritage of Maroons in the Netherlands, Suriname and beyond.
We work with these values in mind:
– Transparency
– Reciprocity
– Connection
– Activation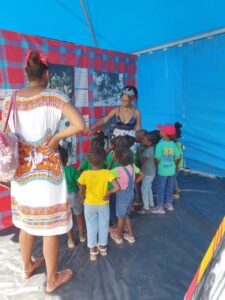 Events
For 4 months, Wooko Makandie has been planning an exhibition in Grand Santi, a small town located along the shore of the Marowijne River in
Contact us for more information on upcoming activities!